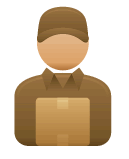 United Parcel Service Inc. says it's already working closely with retail customers on planning for this year's peak season — even though there are indications of a softer shipping season this year.
During a conference call on Tuesday, an analyst gave UPS credit for making a concerted effort to build up the capacity of its system. But he asked how the company plans to balance the system's upgraded capacity with a softer economy and mixed retail market.
Myron A. Gray, president of U.S. operations for the Atlanta-based package shipper, handled the question by saying the company already is working with customers on planning.