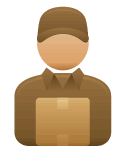 Social media exploded on Christmas with complaints about UPS and FedEx from customers furious about empty spots under their trees.
Most complaints were directed at UPS, which issued statements on Christmas Eve and again on Christmas Day acknowledging that the company was overwhelmed by unexpected volume and some packages were delayed until after the holiday.
"This has been the worst Christmas ever," said Larry Ledet, 55, of Houston, who has been a UPS driver for 27 years. He made 337 stops and delivered 505 packages Monday.