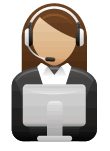 UPS Foundation's Global Humanitarian Relief Network Uses Collaboration and Extensive Planning to Bring Rapid Support to Address Urgent Needs
Even before Hurricane Laura devastated coastlines in Louisiana and Texas, The UPS Foundation and its network of relief organizations were building a response to quickly address the needs of impacted communities.
The extensive damage resulting from the storm left impassable roads, inhabitable housing, and an infrastructure strained to deliver essential items. Providing relief in the midst of a pandemic is challenging and complex, but UPS and its relief partners were ready.