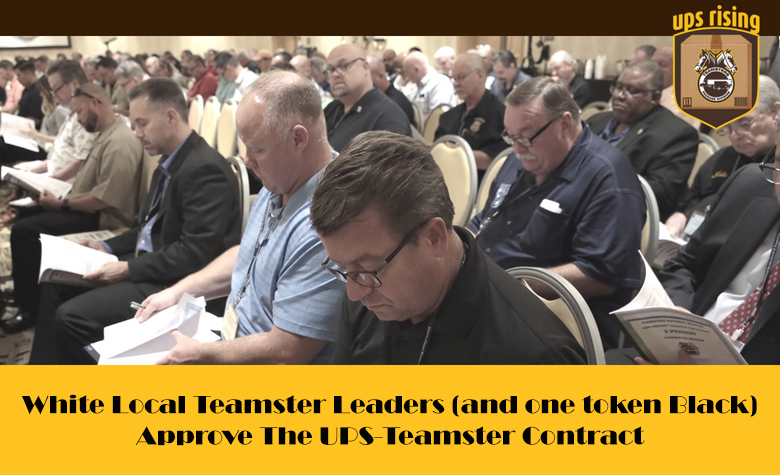 White Leaders (and one token Black), of local unions that represent UPS and UPS Freight Teamsters met Thursday August 9, 2018 and approved the two separate tentative national agreements, paving the way for members to vote by electronic ballot starting next month.
Regarding the UPS tentative agreement, "Today's vote was a very strong indication of the support nationwide from local union leaders and it sends the national agreement, regional supplements and riders to the members for a ratification vote," said Denis T, Director of the Teamsters Package Division and Co-Chairman of the Teamsters National UPS Negotiating Committee. "This agreement provides all our UPS members with tremendous gains in wages, benefits and working conditions and excellent opportunities for part-time workers to gain full-time employment."
The tentative five-year UPS contract
addresses several major issues
:
Wage increase/increased start rates for part-timers.The tentative agreement provides annual wage increases for full-time and part-time workers and for the first time in many years contains increases in the part-time start rates, a key issue for hundreds of thousands of our members and future members.
Protects strong health care and pension benefits.UPS Teamsters will continue to receive their health insurance without paying premiums. UPS is required to make up the difference in the event Central States reduces benefits so that members who were covered by that Fund receive the full pension they earned.
Addresses harassment and excessive overtime.Stronger grievance enforcement for harassment with a sitting arbitrator and monetary penalties, and a new procedure making it easier to get on or off the overtime (9.5) list.
5,000 new full-time jobs. The agreement requires UPS to create 5,000 new full-time jobs during the agreement, including a minimum of 2,000 sleeper team jobs by taking work off the railroad, and a new combination driver classification that addresses the changes brought on through the e-commerce revolution.
Last edited: