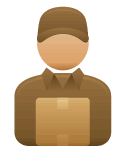 Monday marks the highest global pickup day for UPS with some 34 million packages to be picked up across the world — double the normal volume. Nearly 29 million of those packages will be delivered on Tuesday. Overall, The company expects to deliver more than 129 million packages the week before Christmas, said Dan McMackin, a UPS spokesman. "During this busiest time, we will be delivering about 300 packages per second," he said.
At Worldport, a $2 billion automated processing facility that's roughly the size of 90 football fields (5.2 million square feet), they call these days "the playoffs." They call Dec. 23 — UPS peak air delivery day — the Superbowl.
"We prepare for peak season all year long; we have to be ready for anything," "It's organized chaos, but it's fun. This time of year, many of us run on pure adrenaline."said Amy Sitterly, the operations manager of Worldport, which has 70 aircraft docks and 155 miles of conveyor belts capable of sorting 416,000 packages per hour from 220 countries across the globe.