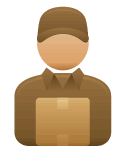 Apparently, I'm not the only one who gets excited when I see the boxy brown UPS truck driven by John Hartz arrive in my driveway.
John has become one of our local heroes during the pandemic.
Exeter loved him before this, but his popularity has taken on a new level since many of us have turned to online ordering to avoid leaving our homes. By Exeter's standards, he's up there with New York Gov. Andrew Cuomo.