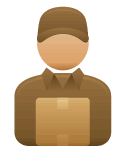 Defendants allegedly sold thousands of stolen phones for top dollar in Mexico and other foreign countries.
As a UPS truck driver delivered boxes of new cell phones to a T-Mobile store in Vacaville, California this year, the unexpected happened.
An SUV pulled up and two men jumped out, ran over to the driver, and grabbed the boxes of new phones, shoving them into their car before pulling away.
Little did they know, undercover agents for the Fremont Police Department were filming the whole ordeal.