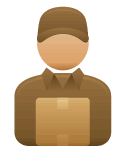 He's a link in Santa's global supply chain
Nick Walny of Clinton Township has always found his work as a UPS truck driver rewarding but never more than in the last two years.
When everything was locked down because of the COVID-19 pandemic restrictions he was among the drivers who ventured outside of his home to deliver medicine to patients who were unable to leave theirs — and when the vaccines became available – it was UPS drivers who were given the responsibility of delivering the precious cargo to hospitals, urgent cares and doctor's offices.
Now it's Santa Claus who is counting on Nick.