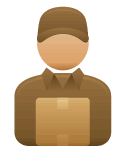 After more than four decades as a United Parcel Service driver, Tom Howes is heading into retirement, but his dedication will not be forgotten.
"I feel like a football coach that's losing their all-star quarterback, " said Tryston Kessler, Tom's supervisor.
His career with UPS began when he was 19. In his first position, Tom worked between the early hours of 3:30-8:30 a.m. each day as a delivery truck loader. He said that was back when UPS only delivered to addresses in the United States.