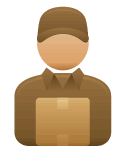 United Parcel Service made an appearance on a Government Companies Authority Zoom conference dedicated to the tender.
United Parcel Service (UPS), the multinational package delivery company based in the US, participated in an investors' Zoom conference hosted by the Government Companies Authority (GCA), which detailed the planned privatization tender of Israel Post, according to Globes.
On Thursday, the GCA announced its plan to follow through with a two-stage plan to privatize the Israel Postal Company. According to the approved plan, 20% of the company will be sold to an investor and an additional 20% will be put on the Tel Aviv Stock Exchange.