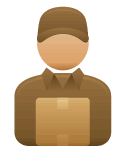 A 33,000-square-foot United Parcel Service distribution center expected to employ about 100 people is under construction in Pevely.
The construction site is at 8921 Weier Road near the Mr. Fuel Travel Center south of Hwy. Z.
"At this time, the facility is scheduled to open around the end of 2022, beginning of 2023," UPS spokeswoman Karen Tomaszewski Hill said Tuesday in a written statement. She said the location was chosen because of growth in the region.