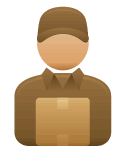 UPS delivery: We'll take your address and your location data
Signing for a delivery: it's the last step in the process, but it can be inconvenient for the logistics company and customer. The customer needs to schedule their day around a time window when the package might arrive so they can sign for it. And if the customer isn't home, the delivery company has to make multiple trips. "This represents an inefficient use of carrier resources," UPS wrote in a patent application published this week.
UPS already offers a couple of solutions to this problem, which include having parcels forwarded to a different location where someone can sign on the receiver's behalf or sending the package to a UPS customer center. But the logistics company outlines another solution in its patent application that can allow customers to provide the location of their vehicle or another place where the package can be delivered. It all hinges on consumers sharing quite a lot of information.