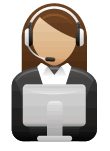 89 Million Flowers Flow Through UPS's Global Logistics Network

Last Minute Cupids Can Ship as Late Monday, February 13th
Business is blooming leading up to Valentine's Day. To get flowers, sweets and gifts to consumers and businesses by Feb. 14 it takes a global logistics network helping Cupid. This year, it's estimated that UPS (NYSE:UPS) will deliver more than 89 million flowers – enough to fill 64 767 Boeing cargo aircraft – to loved ones around the world.