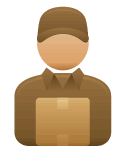 On his UPS route through Oak Creek, driver Kevin Kiewig always makes a special stop at one house. Kevin stops by to check on his friend, 6-year-old Molly.
When UPS driver Kevin Kiewig stopped by the Zehnder house two years ago, Molly answered the door and from there a bond slowly formed.
"Everyone just rolled with it," said Amy Zehnder, Molly's mom. "He is so down to earth, he's realistic, he's kind, he's humble, he's one of Molly's best friends."
As best friends do, the two are there for one another. Kevin recently had shoulder surgery.
"What did you tell me, Molly?" said Kevin Kiewig.
"I said, don't be scared," said Molly Zehnder.