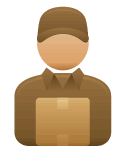 One Florida United Parcel Service center saw a lot of action last Saturday.
According to the Polk County Sheriff's Office, at a little after midnight on April 14, a pickup truck matching the description of a truck that had been reported earlier as driving erratically was seen busting through a chain link fence at the UPS center in Lakeland.
"Was this guy's package delivered to the wrong address?" read the PCSO Facebook post. "Maybe he just really prefers Fed-Ex?"
Deputies descended upon the area, along with a K-9 team and air support.