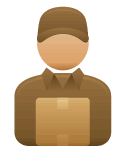 Judge said she wants to send a message to top executives
Company pledges to appeal, saying award is 'excessive'
United Parcel Service Inc. was ordered to pay $247 million to the state and city of New York for the company's "egregious and prolonged" failure to stop shipments of untaxed cigarettes from American Indian reservations that officials said undermined anti-smoking efforts.
U.S. District Judge Katherine B. Forrest in Manhattan said she wanted to send a message to the most senior executives at UPS about the cost of such misconduct. Modest penalties, she said in her ruling Thursday, "would not make a sufficient corporate impact" on the company.