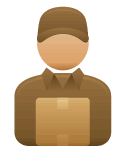 It would appear Arizona is further cementing itself as ground zero for the testing of self-driving vehicles.
TuSimple, a San Diego-based self-driving truck company that operates its autonomous trucks out of Tucson, has been hauling loads for UPS between Phoenix and Tucson since May. The tests, a company spokesperson told 12 News, are going "very well."
The company said it started making non-autonomous deliveries back in March for UPS as a way to map out routes, collect data, and learn the "UPS process." Daily autonomous runs began in May between Tucson and Phoenix with a driver and an engineer in the truck.