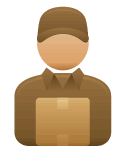 Heartfelt words and cherished memories and photos were shared at a candlelight vigil for Steve Krueger on Thursday night in Santee.
Krueger was killed in the deadly plane crash that happen near the intersection of Jeremy Road and Greencastle Street on Monday.
Hundreds of candles shined bright as speakers, friends and family of Kruger spoke about him.
"He's the kind of guy that would come to work talk to anybody, would ring up a conversation with anybody just laugh never in a bad spirit," Robert Moreno, a UPS colleague of Krueger's said.