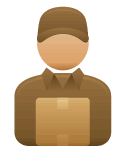 UPS might be the next target of the national strike wave — but under very unusual circumstances.
Will the historic strike wave that began with teachers in February hit the United Parcel Service (UPS) this summer?
UPS is today the largest private-sector unionized employer in the United States with nearly 280,000 Teamsters. That includes its package division — which employs nearly 260,000 workers and sports UPS's famous chocolate brown delivery trucks — and its smaller freight division. National contracts for both divisions expire on July 31, and the Teamsters are negotiating the two simultaneously.
On May 2, they called a national strike authorization vote. On Tuesday, materials for the vote reached rank-and-file members' doors. The vote comes in the midst of negotiations which will not only impact UPS workers and their families, but also the union's ability to organize the burgeoning nonunion logistics industry in the future.