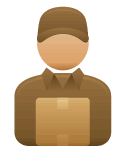 In mid-December, when the first vials of COVID-19 vaccine arrived in Kentucky, workers with Teamsters Local 89 played a pivotal role in delivering them from airplanes to arms.
"The people who took the vaccines off the planes and put them on UPS trucks were Teamsters," said Avral Thompson, Secretary-Treasurer for the union that represents more than 16,000 workers in Kentucky and Southern Indiana. "The UPS truck drivers were Teamsters. We played a big role."
On Friday, the vaccines came to them. In partnership with UofL Health, the Teamsters Local 89 hall in Louisville held a vaccine clinic for members, their families, and anyone else in the neighborhood who hasn't yet been vaccinated against COVID-19.