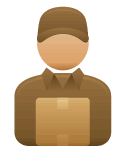 Emergency personnel were called to the scene Wednesday morning, and traffic was backed up for several miles in westbound-traffic lanes of the Liberty Expressway after a fatal crash just west of the Blaylock Street bridge.
According to reports, the driver of a UPS truck was killed in what Albany police say was a three-vehicle collision.
Dougherty County Coroner Michael Fowler identified the deceased driver as Cathy Johnson, 64. He said she was driving a UPS delivery vehicle that ran into the back of an Oxford Construction Co. dumptruck.