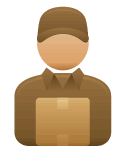 United Parcel Service Inc is taking a page out of a retailer's playbook, offering discounts on everything from Costco memberships to luxury clothes and Disneyland tickets to loyal customers, UPS said on Wednesday.
The UPS My Choice Deals program, first reported by Reuters, appears to mark the first time the world's largest package deliverer is hoping to cash in on shippers' products directly.
More than 43 million global consumers will get access to some 500 deals – like 10 percent off Goodyear tires, 20 percent off Neiman Marcus luxury clothes, or the ability to donate half of one percent of an Amazon purchase to charity.