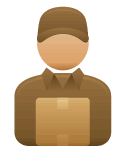 About two dozen Louisville-area UPS drivers don't like a tentative proposal to create a new tier of lower-paid "hybrid" drivers who would deliver packages on Saturdays and possibly on Sundays should the shipping giant expand to a 7-day operation.
The hybrid driver proposal is one of the more hot-button items that the International Brotherhood of Teamsters is negotiating with Atlanta-based UPS as part of new, five-year labor contract to replace the one that expires July 31.
The contract covers about 260,000 union workers across the country, including about 12,000 in Louisville, where UPS maintains its Worldport global air hub.