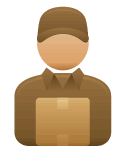 United Parcel Service drivers who organized a protest against a former colleague's termination are now being shown the pink slip as well.
Two hundred and fifty UPS drivers have been fired for temporarily walking out of the job late last month to protest the firing of Jairo Reyes, who worked there for 24 years, and not receiving the hearing that workers are entitled to.
In an emailed statement, UPS said it took an "appropriate and justifiable" action to fire the employees for an illegal and unauthorized work stoppage.