NEWS ARABWORLD</SPAN></SPAN>
Violence empties schools in IraqBy Maher Al-Jasem in Al-Anbar province
In an ordinary year, schools throughout Iraq would have opened for classes on September 20, but this year many in the country are left empty, as schoolchildren are kept at home by the violence that has plagued Iraq's streets.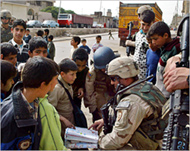 Armed groups have asked parents to keep children at home
In Ramadi, members of armed groups calling themselves the Iraqi resistance distributed fliers asking parents to keep their children at home until all US security checkpoints had been removed from the city.
Mohammed Noor, an Arabic language teacher at one of the secondary schools, told Aljazeera that the fliers also claimed that US military personnel had occupied some of the schools in the past few months and that schoolchildren should refrain from registering for classes "until the people of Ramadi are rid of their presence".
Ramadi is a city virtually under siege as it has been the battleground between armed groups and US forces.
Fierce fighting has kept many of the streets closed to all traffic – in some districts the city looks deserted.
Streets such as Al-Maarith, Muhafatha and Al-Iskan, on which many schools are located, have also been cordoned off by US forces, leaving families with no choice but to keep their children at home.
Noor said: "When you want to pass these areas you have to carry a white banner, otherwise American snipers may deal with you as terrorists and shoot you without any hesitation … they are perched on the buildings over the streets."
Wages unpaid
Further exacerbating the situation, many teachers have not been paid wages, a school director told Aljazeera on the condition that his name not be published.
He said: "US forces are everywhere – on the streets, manning checkpoints, the former police headquarters – it is dangerous."
He explained that it had become a challenge having someone distribute wages in Ramadi, Hiyt and Haditha, as well as other cities in the western Anbar province.
"The person with our wages could be hijacked on the roads or killed by US forces."
Roads to and from Ramadi have been so dangerous that the results of final exams taken by Ramadi secondary school students have yet to arrive from the Al-Selakh district of Baghdad's Rusafa region.
For now, for the students of Ramadi at least, school's out for the rest of the year.