Discreet New Wipe Stops You From Finishing Early During Sex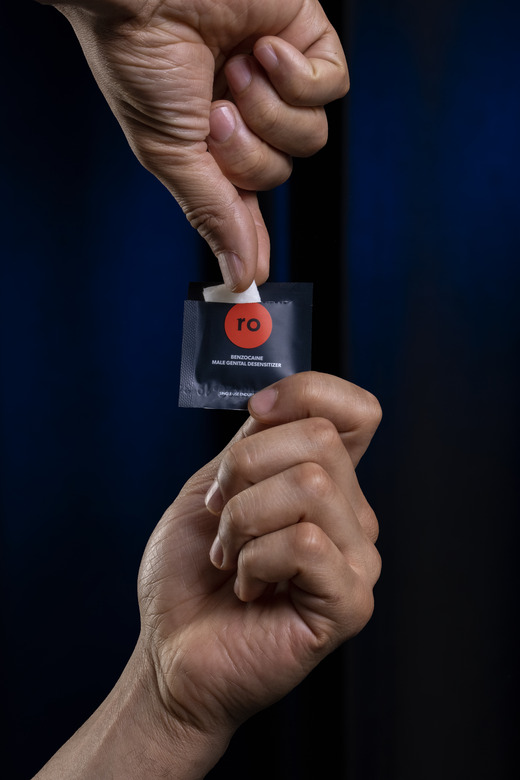 No matter how sexually experienced you are, chances are there's been a time where your excitement ultimately led to you finishing way earlier than you wished. Even if it was just one time (or two… or three), that knock to your ego is one of the worst feelings in the world, and naturally, you never want to feel it again.
Well, as there's a solution for everything nowadays, a company is hoping to eliminate the fear of blowing your load before you've barely gotten started.
Roman Swipes
are condom-sized single-use wipes (
available
for subscription) that contain 4 percent benzocaine, allowing you to last longer while keeping all the expected stimulations, the company says. To kick it into effect, simply wipe your most sensitive area, and let it dry for five minutes. After that, you'll be good to go all. Night. Long.
"Swipes are also the only over-the-counter product for PE that has a clinical study connected to it," says George Koveos, Roman's general manager. "You have much more control over where you place the numbing agent and how much of it you use to avoid overexposure and overnumbing. [The] swipes are portable, so you can take them anywhere without an awkward shape in your pocket or wallet."
If you're a bit skeptical at this miraculous creation, don't be. According to research presented at the American Urological Association Annual Meeting in 2017, men have had a 340 percent increase in endurance after two months of regular use.
The intent behind Roman Swipes was to make an over-the-counter product that not only delays ejaculation, but also is easy enough to carry around in your wallet.
"We wanted to bring a non-prescription option to the market to help our members last longer that captured the Roman essence: discreet and easy to use, but backed by clinical research," says Koveos. "Swipes are the size of a condom and are applied to the sensitive parts of the penis just before sex. All the other existing over-the-counter options for PE are messy sprays or sketchy supplements, nothing you can just throw in your wallet."
For those already thinking of using Roman Swipes daily, there isn't "any risk to everyday use."
"Research presented at the
American Urological Association Annual Meeting in 2017
found this product is safe to use and doesn't transfer to partners if used continuously," Koveos added."
However, for the percentage of American men who experience premature ejaculation, Roman admits their product might not be enough if your case is extremely severe. In those cases, Koveos suggests seeing a doctor to obtain a prescription, or speaking to one of their physicians to educate yourself on other ways to last longer, "whether through edging, the squeeze technique or other behavioral modification techniques."
"While Swipes are used primarily for men with PE, we're helping men and couples looking to stay in the moment longer, whether for a special occasion or just to improve intimacy with their partner," adds Koveos. "If you and your partner are satisfied with your sex life, Swipes aren't for you – but for many couples, Swipes can help improve their sex lives."
And what guy wouldn't want that?
You Might Also Dig: