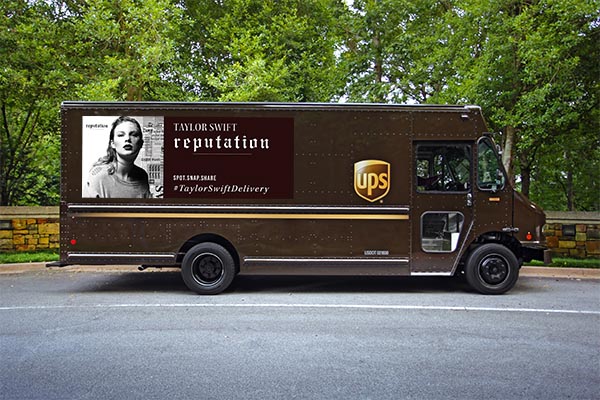 UPS Delivering a Secure Logistics and Distribution Solution for Millions of Taylor Swift Album Deliveries to Retailers and Consumers
Fans Can Win a Flyaway Package to an Upcoming Taylor Swift Show
and Special Memorabilia Through Exclusive UPS Promotions
Two cultural icons, 10x GRAMMY winner Taylor Swift and UPS (NYSE:UPS), the world's largest package delivery company, are partnering to deliver a new experience for customers, fans and employees in celebration of Taylor's 6th studio album,
reputation.
UPS developed a specialized, global logistics and distribution solution that includes both the secure distribution and shipment of CDs to retailers at a precise moment in time, along with the final delivery of the CDs to online consumers. As part of the solution, for the first time in the company's 110-year history, select UPS package delivery cars will be decorated with Taylor Swift's album cover image on the side of the truck, in celebration of the launch and distribution of
reputation
.
"From our service providers who will be delivering fans' wishes, to the logistics team who 'tailor-made' a new solution for album distribution, UPS is ready for our world-class performance," said Kate Gutmann, chief sales and solutions officer.
The UPS package cars with Taylor Swift's album cover on them will roll out in cities across America, beginning with Nashville, Atlanta and New York City on Sat., Aug. 26. UPS will announce via social media when the package cars will arrive in other cities. Fans who snap a picture of a decaled UPS package car, at a safe distance, then tag
@UPS
and share the hashtag #TaylorSwiftDelivery may receive an improved opportunity to buy Taylor Swift concert tickets.
UPS today launched an exclusive contest,
www.ups.com/taylorswift
, with an opportunity for a fan to win a grand prize flyaway package with premium tickets to a Taylor Swift concert, airfare, hotel, dinner and a makeover experience. Additional contest prizes include concert tickets, an autographed piece of memorabilia from the set of Taylor Swift's new music video, and merchandise. Fans can enter by pre-ordering the album from UPS.com.
Fans also are encouraged to register for the UPS My Choice® service, which provides day-before delivery alerts to avoid missed deliveries, or the option to route the delivery to a secure UPS Access Point™ location or a
The UPS Store®
location, giving them control of when and where the delivery is made.
The relationship between UPS and Taylor Swift dates back more than a decade. On June 3, 2006, sixteen-year-old Taylor Swift and a few others gathered around boxes and boxes containing copies of her first single "Tim McGraw." There was a stack of UPS labels on the coffee table printed with the addresses of radio stations across America who would hear her song for the first time. UPS delivered those packages in 2006 and now, eleven years later will be delivering her new album to dedicated fans.
"We're so pleased to be a trusted partner once again," Gutmann added.
UPS employees around the world can participate in the excitement through an exclusive program outlined on the employee portal, designed to showcase the past and present connection between UPS and Taylor Swift.
Last edited by a moderator: