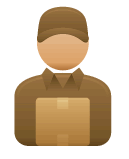 Traffic on Interstate 15 was blocked north of Malad after an accident involving a deer, a car and a truck Thursday morning.
Idaho State Police said Stephanie Viteri, 21, of Herriman, Utah, was driving a 2011 Nissan Altima northbound when she hit a deer, disabling the car in the right lane.
Donald R. House, 55, of Howe, Idaho, who driving a UPS truck hauling three trailers, struck Viteri's car from behind.