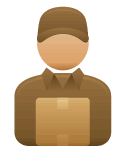 UPS management wanted to show appreciation for drivers Friday.
You don't always see them, but you know they're out there.
While the coronavirus has put many out of work, for those who make a living delivering packages, it's gone the other way, with a heavy increase of orders being shipped.
Over the past few weeks, many UPS locations set up "Thank You" days at their facilities to show appreciation for their workers. Damon Currier, a manager at the Auburn center, wanted to show his appreciation, as well.