offending people on the internet since 1995
http://abcnews.go.com/US/nypd-cop-chokehold-death-loses-gun-badge/story?id=24634470
NYPD Cop in Chokehold Death Loses Gun, Badge
Jul 19, 2014, 5:31 PM ET
By
JOSH MARGOLIN
, TINA CHEN and MARK CRUDELE
JOSH MARGOLIN
More From Josh »
Senior Investigative Reporter
via
WORLD NEWS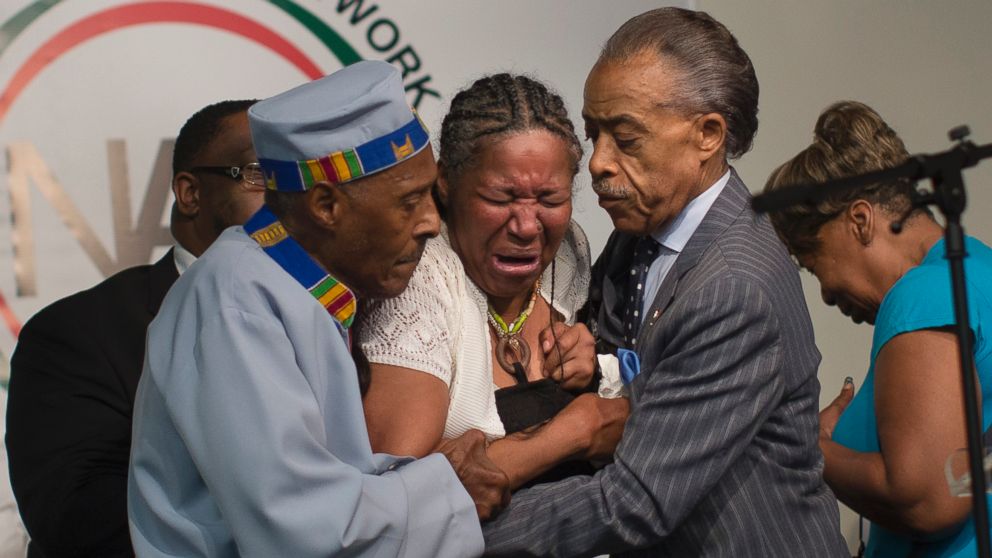 NYPD Arrest Suspect Suffers Heart Attack, Dies at Hospital
NEXT VIDEOFather Of Six Dies After NYPD Police Chokehold
AUTO START: ON |
OFF
The New York police officer seen in a video apparently
putting a chokehold on a man
who later died has had his gun and badge taken away pending the outcome of investigations into what happened.
The NYPD announced tonight that Officer Daniel Pantaleo, an 8-year veteran, has been placed on "modified assignment," pending the outcome of the dual probes by the district attorney and Internal Affairs.
Police Commissioner Bill Bratton had announced Friday that the cop and his partner were on "desk duty," but they still had their guns and shields.
Eric Garner, who was 6-foot-3 and roughly 350 pounds, died Thursday as police struggled to arrest him, according to the NYPD. Police said he appeared to suffer a heart attack.
Emotional Rally Held for Man Who Died in Custody
NYPD Suspect Suffers Heart Attack, Dies At Hospital
Garner was arrested in Staten Island after he was allegedly seen selling "loosie" cigarettes, police said. Garner was known for selling individual cigarettes for 50 cents each in his Staten Island neighborhood.
Police said the cigarettes come from North Carolina and Garner is the end of the supply line. Because the Staten Island man allegedly sold cigarettes to children, the police called the cigarettes a "quality of life" issue in the neighborhood.
Garner's death has led to outrage, especially after video obtained by the New York Daily News appeared to show that the man was put into a chokehold as he was arrested.
The chokehold is prohibited by NYPD departmental policy.
Mayor Bill De Blasio called the video of the arrest "very troubling" and delayed a planned vacation for a day after hearing about the incident. De Blasio said NYPD internal affairs and the local district attorney were investigating the incident.
The video shows officers approaching Garner, who initially denies that he's selling loose cigarettes.
"I'm minding my business why don't you leave me alone," Garner can be heard saying.
Eventually when police officers move in, Garner appears to not comply and at least five officers wrestle him to the ground as they attempt to handcuff him.
As Garner is being held down, he can be heard telling police that he "can't breathe." Eventually when officers realize he is not responsive, they called in an ambulance, which took Garner to a hospital where he died a short time later.
The apparent violence of the arrest led to outrage and the internal investigation. On line, numerous people tweeted #JusticeforEricGarner, calling attention to the deadly incident.
Policeman's Benevolent Association President Patrick Lynch, questioned by ABC News about what constitutes an appropriate use of force, said the public should not rush to judge before the official investigation is concluded.
"At times, when officers are required to make an arrest, they must employ the use of force in order to get compliance from an individual who NYPD policy requires must be rear-cuffed for transport to a precinct," Lynch said. "Force, by its very nature, is an ugly thing to witness. Taken out of the context of what is happening, necessary force can be misinterpreted to be excessive by those who are not trained in law enforcement procedures."
Garner's family has been devastated by the loss.
Garner's wife Esaw Garner collapsed into tears as she attended a crowded memorial rally today at Rev. Al Sharpton's National Action Network.
The mayor's commissioner for human affairs attended the rally and said the mayor is committed to strengthening the relationship between police and minority communities.
"This is going to be a real test to see where policies are in the city now and whether the change that we feel occurred has occurred," Sharpton said. "We are the only ones in the social setup that has to deal with fear of cops and robbers."
ABC News' Dean Schabner and The Associated Press contributed to this report