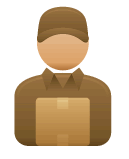 Aircraft maintenance workers at United Parcel Service Inc. began a strike authorization vote Friday, but union and company representatives ruled out a work stoppage during the holiday-shipping season.
The International Brotherhood of Teamsters said the move affecting roughly 1,200 UPS airplane mechanics and support staff in the U.S. follows three years of protracted contract negotiations and continued disagreements over wages and health benefits.
Under U.S. labor law governing airline workers designed to keep traffic and commerce moving, unions can't unilaterally go on strike without government approval. Federally mediated talks are scheduled to continue through at least December.