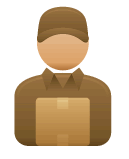 Package-delivery giant UPS will pay more than $25 million to settle charges it submitted false claims to the federal government in connection with delivery of Next Day Air overnight packages, the Department of Justice said Tuesday.
UPS provides delivery services to hundreds of federal agencies through contracts with the General Services Administration and U.S. Transportation Command, which supports Department of Defense agencies. The company guaranteed next-day delivery of packages by specified times under those contracts, federal officials said.
However, UPS concealed the company's repeated failure to meet those delivery guarantees from 2004 to 2014, federal prosecutors said. The subterfuge allegedly prevented government customers for seeking refunds for late deliveries.