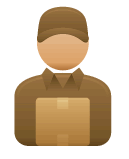 A UPS driver was shot after delivering a package in southeast Houston Thursday night.
According to authorities, the driver had just returned to his truck when three men walked up and shot him twice. The victim managed to get help and he's expected to make a full recovery.
The robbers got away with 20 to 30 packages in the truck.