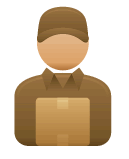 Cargo pilots at UPS are threatening a strike — and it could be bad news if any customers get spooked.
Last week, pilots at package delivery giant United Parcel Service voted to authorize a strike if negotiations with the company break down. The pilots still need to be released from negotiations by the National Mediation Board for a strike to be legal, something that rarely occurs. As a result, UPS has characterized the strike vote as merely "a symbolic gesture" by the union.
While it may be a symbolic gesture, it's not a meaningless one. With the threat of a pilot strike during the busy holiday season — even if it's a low-probability outcome — and UPS drivers promising to support any pilot strike, customers could worry about relying too heavily on UPS. FedEx may be able to capitalize on this uncertainty to gain market share.