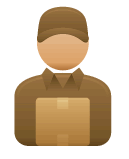 Some employees of one popular delivery service are making allegations of intimidation and racism. The United Parcel Service workers say that's the climate they feel inside their Riviera Beach workplace.
"He's walking right behind me, over my shoulder, harassing me," said Marvin Merritt, a UPS worker, who's worked at the company for three years.
Merritt is talking about his former supervisor at the Riviera Beach facility, who he says was moved to a different position.