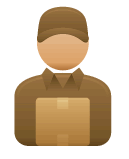 Under David Abney's lead, the logistics giant has witnessed consecutive annual growth in both the international and domestic market
United Parcel Service, Inc. announced on Wednesday that it has unanimously elected CEO, David P. Abney, as new Board Chairman. His predecessor, Scott Davis, will retire from the position at the 2016 annual board meeting.
The decision is part of a strategy to augment growth for the logistics giant, which also includes refocus on improved customer service. The CEO said that the corporation will continue to expand internationally, increase global e-commerce, and accelerate growth in specialized markets.