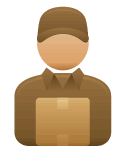 A high volume of holiday packages overwhelmed shipping and logistics company UPS, the company said on Wednesday, delaying the arrival of Christmas presents around the globe and sending angry consumers to social media to vent.
Amazon.com responded with an email to affected customers offering shipping refunds and $20 gift cards to compensate.
A convergence of factors, including higher volume than expected and recent patches of bad weather, caused the delays, UPS spokeswoman Natalie Black said.