I feel like i can get paid more.
I like the job but sometimes i feel like i am working for nothing.
I do not get breaks, so i feel like the company just deducts lunch time from my pay check. keep in mind that i do get to eat in between stops and sometimes i do get bath room breaks which allows me to eat more. ( i always pack my own lunch and snacks )
things i can do to improve my hours are to work a bit slower. i guess i work a bit too fast , and when you work too fast, you get go home sooner hence the less hours. actually, some customers have told me that i am always in rush.
i was told about bonus pay, so if i am making 12.95, they will add an extra 100 dollars to my check so it becomes *19.65... personally, i barely see that..
I currently work as part timer but it is almost like full time. i have no problem doing 40-50 hours per week. i will be more vocal to my supervisors and what not.
please note that i was a full time driver but during training, i was in a car accident (not my fault) then my position got reduced to driver helper. i did it manually such as talking to the HR manager because that is what the supervisor advise me to do. Some of my co-workers said that was a bad move and i should have went to the union even though i am not a union member as of yet due to probation period.
share me some tips on how i can make more money as a driver helper. keep in mind that Canada Post (Federal Company) is on strike. They have a 35 day backlog and they are always in the news. it is a big deal for some people because of the Christmas season.
here is the Job Listing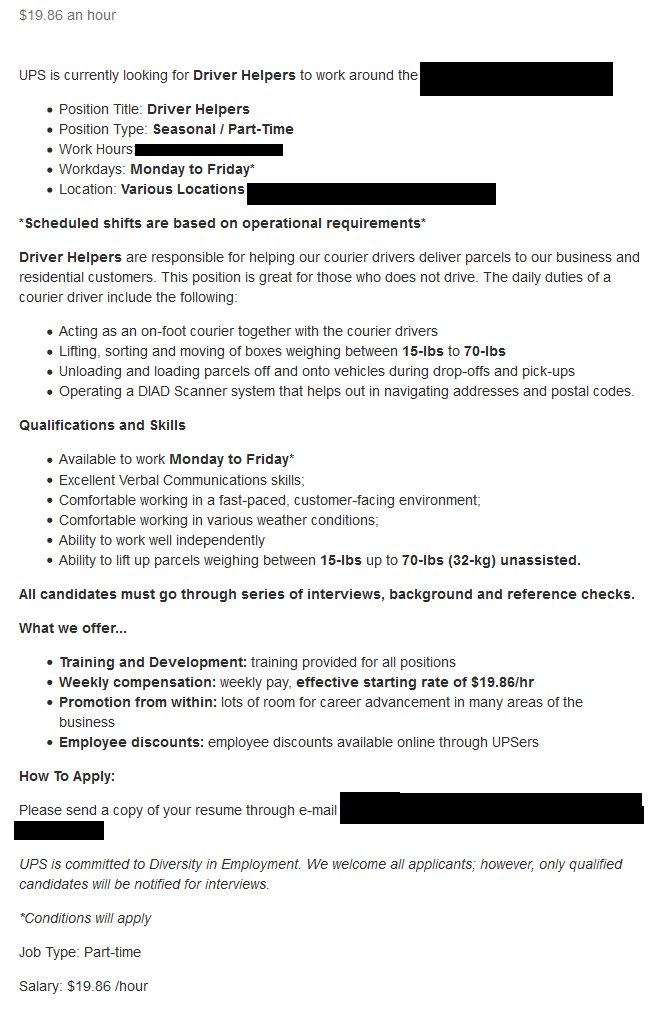 Stub Info