Democrats in Congress invoked the term over refusals from the Trump administration to accept demands for testimony and documents, including the full version of special counsel Robert Mueller's report.
Congressman Nadler (D-NY) is pushing the US Government into a "Constitutional Crisis" by ignoring the US Law by issuing a subpoena for the entire Mueller Report be revealed publicly including Grand Jury testimony.
In a dishonest interpretation, Nadler stated, "
We are in one because the President is disobeying the law, is refusing all information to Congress.
"
(Link to article)
The entire Mueller Report has been made available to key members of Congress that are cleared to see the entire report, but none of the Democrat Congressmen, including Nadler, have reviewed the available report.
Adam Schiff (D- CA) stated, "
The Justice Department after providing 8,000 documents and extensive testimony is now being required to turn over privileged materials. And like all administrations before it, it has reluctantly used executive privilege to respectfully refuse to provide materials it cannot provide." - (Link to article)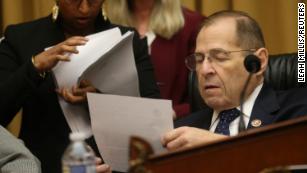 Last edited: