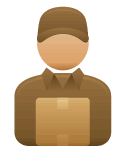 A few UPS workers have made a memorable experience for a little boy in Jackson County.
Sawyer Long is almost 4-years old and is a big fan of UPS.
He is always excited to see the UPS truck and driver when they deliver packages to his house and even has a matching uniform.
Sawyer's birthday is coming up, and on Thursday afternoon, UPS workers surprised him with a cake and some gifts.