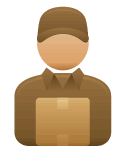 China said it would ease restrictions on foreign couriers seeking to deliver packages nationwide, potentially increasing competition in a fast-growing business already marked by bruising price wars.
The State Council, or cabinet, said in a statement late on Wednesday it had decided to "fully liberalise" the market for parcel delivery to promote fair competition between domestic and foreign firms.
FedEx Corp, which along with United Parcel Service Inc operate express parcel delivery services in China, told Reuters on Thursday it welcomed the cabinet decision. It declined, however, to provide any details on the measure.