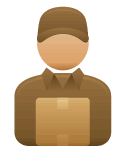 The No. 1 U.S. courier company is investing in new technology and expanded capacity so that the 2014 holiday season should go smoothly, Chief Financial Officer Kurt Kuehn said on Thursday.
UPS has increased investments in capacity expansion by $500 million, a large part of which is a direct reaction to the recent holiday season's glitches, Kuehn said. Total capital expenditures in 2014 are expected to reach $2.5 billion.
The company is also going to focus on improving communications with key customers as part of the new strategy, while adding technology that makes it easier to estimate volumes.