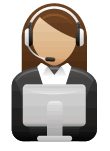 Higher Costs Driven by Surge in Shipments and Weather; FY2013 Adjusted EPS $4.57, Below Guidance of $4.65 to $4.85; Anticipates 2014 EPS Growth of 10-to-15%
UPS (NYSE: UPS) today announced that it anticipates fourth quarter 2013 diluted earnings per share of $1.25. Full-year 2013 adjusted diluted earnings per share are expected to be $4.57, below the previously provided guidance of $4.65 to $4.85.
On a reported basis, 2013 diluted earnings are expected to be $4.61 per share.