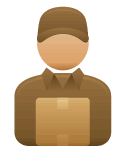 U.S. prosecutors on Thursday charged the son of a former United Parcel Service Inc executive with impersonating his father to fraudulently obtain millions of dollars that was intended to finance the purchase of Maxim magazine last year.
Calvin Darden Jr., 39, faces two counts of wire fraud for his role in an elaborate scheme involving fake emails and bank statements to obtain more than $8 million and attempt to secure another $20 million, the prosecutors said.
Darden was arrested Wednesday after what a prosecutor described as a manhunt. He is the son of Calvin Darden Sr., a former vice president of U.S. operations at UPS.