Make UPS Deliver in 2012

Hoffa and Hall have promised UPS will curb production harassment, hire more package drivers and respect members' 9.5 rights.
It's up to Teamster members to hold Hoffa and Hall to their pledge and to Make UPS Deliver on these commitments.
Read the rest …
Posted in
22.3 / Full-Time Combo Jobs News
,
9.5 News
,
Hoffa-Hall
,
Production Harassment News
Three Bungee Cords and a Disaster Waiting to Happen

By Michael A. Savwoir, UPS Feeder Driver, Local 41, Kansas City
Jokes about bubble gum and bailing wire, band-aids and duct tape are commonly used to describe shoddy workmanship or slapstick repair in every workplace.
But who would ever think UPS, a multinational corporation, would actually employ such remedies? That's just what happened on Oct. 5, when a broken fuel tank strap on a '94 Mack truck was replaced with a single rubber bungee cord.
Read the rest …
Posted in
Safety News
UPS Profits Up Again
The economy made be down but UPS's profits continue to go up.
Company execs announced that UPS made $1.04 Billion in profits in the third quarter. Brown's profits increased by 5 percent compared to the third quarter last year and by 89 percent over its third quarter profits in 2009.
Read the rest …
Posted in
UPS Profits
UPS Teamsters Fight for the 99 Percent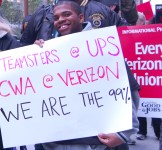 UPS Teamsters joined union members at Verizon in a rally and march against Corporate Greed in New York City on Friday, Oct. 21.
Read the rest …
Posted in
News
,
Teamsters in Action
UPS Exec Brags About Low Wage Increases for Teamsters
UPS Chief Financial Officer Kurt Kuehn bragged to investors that UPS Teamsters will continue to get "below-inflation increases in wages" under the concessionary contract negotiated by Hoffa and Hall in 2008.
Read the rest …
Posted in
News
,
Part-Time
,
UPS Profits
UPS Grievance Decisions
The decisions from the UPS National Grievance Panel are now available from TDU. So is the new schedule of golf resort meetings set by Hoffa and Hall.
Read the rest …
Posted in
Panel Decisions
The IBT's UPS SurePost Surrender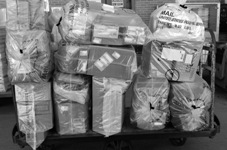 The Hoffa administration has looked the other way while UPS has accelerated its SurePost program—a new service that allows UPS to deliver some residential shipments through the post office instead of package car Teamsters.
Read the rest …
Posted in
Full-Time Jobs Advice
,
Hoffa-Hall
Driver Speaks Out on SurePost
Letter to Package Division Director hall from Local 243 Package Car Driver Martin Labut.

Surepost and UPS Basic to the Post Office is eliminating full-time jobs. We have drivers laid off for the first time I can remember in the summer max vacation period. Every day, routes are cut and combined. We lose about three routes a day out of 30 some routes in our center. We are delivering over 1,000 packages to the post office a week.
Read the rest …
Posted in
Full-Time Jobs Advice
,
Hoffa-Hall
September Grievance Dockets Now Available
The dockets are now available for the second UPS national panel of the year, September 12-15 at the Mission Bay Hyatt Regency in San Diego.
Click here
to read the docket of cases that will be heard.
Click here
to read the docket for the Joint National Air Committee.
The last grievance panel was held in March. No grievance decisions were ever released. Reportedly, all the cases were placed on "committee hold." The June grievance panel was postponed until September. While members' grievances have been stonewalled, the company has been running roughshod over the contract.
Make UPS Deliver
will post the decisions from the September panel as soon as they become available.
Posted in
Panel Decisions
UPS 2Q Profits up 26%

UPS made $1.06 Billion in profits after taxes from April to June this year. That's an increase of 26 percent (or more than $150 million) over the $845 million in profits the company made during the same period last year.
Read the rest …
Posted in
UPS Profits
UPS Still 'In Love With Hoffa'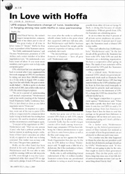 UPS management is so confident of their cozy relationship with IBT President James Hoffa that they are crowing about it to industry executives.
UPS CEO Scott Davis told a gathering of CEOs and financial analysts on June 1 that, "The relationship with the Teamsters is better than it's ever been before." (Stanford C. Bernstein 27th Strategic Decisions Conference, 06/01/2011).
Read the rest …
Posted in
Hoffa-Hall
,
News
Brownout On UPS Issues at the Teamster Convention

With all of the violations happening at UPS, you would think our union's biggest contract would have been a hot topic at the recent Teamster Convention.
Read the rest …
Posted in
Hoffa-Hall
,
News
Part-Time Poverty Wages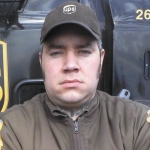 By Tim Hill, UPS Feeder Driver, Local 690, Spokane
The minimum wage in Washington State is now $8.67 an hour according to Washington State Labor and Industries. That is 17 cents more than the starting rate for part-timers in the UPS contract.
Read the rest …
Posted in
News
,
Part-Time
Inflation Jumps

UPS Teamsters to get 12c Cost of Living Raise
Because inflation over the past year has jumped to 4.2%, the highest rate in several years, UPS Teamsters will get an extra 12c per hour raise on August 1.
Read the rest …
Posted in
News
Fed UP at UPS

UPS is coming under fire for unfair production standards and the company's blame-the-worker approach to safety. Some Teamsters are taking action.
Local 804 members rallied at UPS in Melville, Long Island this week to protest the company's illegal firing of two stewards in retaliation for action taken by Local 804 to protect the safety of drivers and the public.
Read the rest …